Divertimento Conducting Course 2019
09/2019
Divertimento Ensemble – IT
Divertimento Ensemble's 15th Conducting Course, Repertoire for ensemble from early 20th century to the present day, takes place from 7th to 18th September 2019.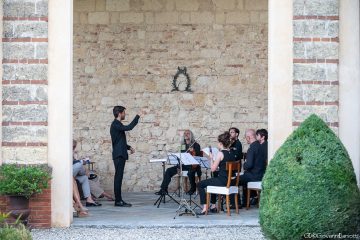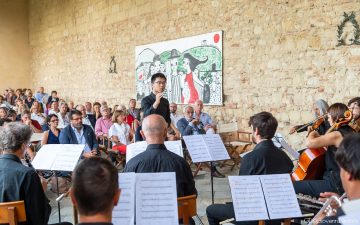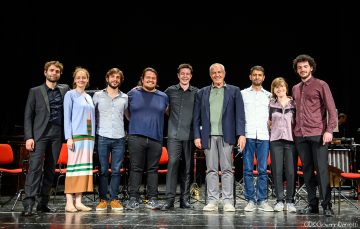 © Giovanni Daniotti
The course comprises twelve days of lessons and concerts, structured as follows:
07/09 – six hours dedicated to an analysis of the scores in the programme
08/09-11/09 – six rehearsal hours/day followed by one hour of work review
11/09 – four rehearsal hours followed by a master class held by Alessandro Solbiati (analysis of Vivente)
12/09 – six rehearsal hours followed by a music lesson held by Alessandro Solbiati
14/09 – dress rehearsal and first concert at Moncalvo Theatre (IT)
15/09 – Concert at Tenuta Santa Caterina in Grazzano Badoglio (IT)
16/09 – Concert in Vignale (IT)
17/09 – Concert in Asti (IT)
18/09 – Concerts at Litta Theatre in Milano (IT).
From September 11th onwards the composer Alessandro Solbiati attends the course as tutor for the reharsals of his composition Vivente.
All the public concerts are presented within the Rondò 2019 concert season and are conducted by the different students.
Programme:
George Benjamin (1960), At first light (1982)
Mauricio Kagel (1931-2008), Finale (1981)
Alessandro Solbiati (1956), Vivente (2007)
Anton Webern (1883-1945), Konzert op. 24 (1931-1934)
Simon Edelman and Pablo Andoni Gómez Olabarría participate to the workshop in the framework of their ULYSSES Journeys for conductors.
Shan-Shi Chang, Roosa Lampela and Emily Wilson join the ensemble in the framework of the ULYSSES Journeys for performers.
You can see all of them united on this picture: