Young Performers' Journey @ Snape Maltings
04/2020
Snape Maltings – UK
The Spanish percussionist Carlota Caceres benefits from a Residency at Snape Maltings in the framework of the ULYSSES Journeys for young performers.
She is joined by Simone Benventi and Lorenzo Colombo from her percussion group ZAUM_percussion.
ZAUM_percussion meets MOMI
Residency dates: 20th – 24th April 2020.
Britten Studio, Snape Maltings.
The residency ends with an Open Session on April 23rd 2020 at 6pm.
Residency and Open Session canceled due to COVID-19 pandemic.

ZAUM_percussion is an ensemble founded in 2018 by three percussionists with an international background, Simone Beneventi, Carlota Cáceres, and Lorenzo Colombo.
Summing up common interests, they come together to create new works for the percussion trio as well as refreshing the most representative repertoire of the twentieth and twenty-first centuries.
ZAUM_percussion is the artist-in-residence at Milano Musica Festival for 2018/2021 and got a residency at Snape Maltings (UK) in April of 2020.
In this context they commissioned new pieces to composers such as Claudio Ambrosini, Marco Momi, they premiered works by Mario Bertoncini, Esaias Jarnegard, and reinterpreted music by Vinko Globokar, Lorenzo Pagliei, Iannis Xenakis. They have performed in Berlin, Forlì, Milano, Modena, Roma, Parma, also in collaboration with ensembles and artists from other disciplines such as Ensemble Prometeo, Zeitkratzer, and Quattrox4 circus company.
Additionally, they are immersed in recordings (for Deutschlandradio and Obsolete Capitalism Collective) as well as developing projects with a pedagogical and participative approach involving groups at risk of social exclusion.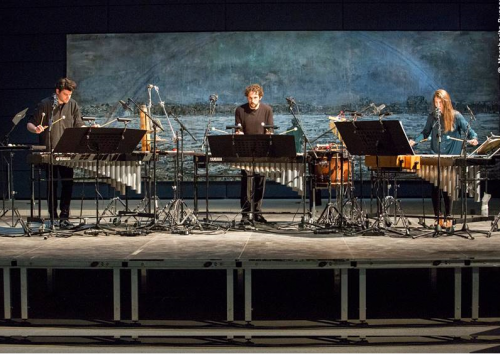 © ZAUM_percussion
Do not hesitate to visit their website.