Daniele Ghisi: An Experiment With Time – Concert Version – Rerun + French Premiere
03/2016
Ircam – FR
Following the presentation as video-installation and an international tour of the project called "An Experiment With Time" (AEWT), involving the creation of a piece for video and electronics, in 2015, the Italian composer Daniele Ghisi has presented the live-version of his project, a concert for amplified ensemble, video and electronics, premiered by Divertimento Ensemble in Milano (IT) on 26th January 2016.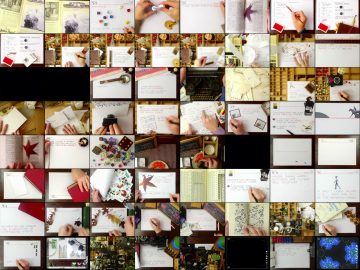 © Daniele Ghisi
On 5th March 2016, the concert will be presented again in Paris (FR), at IRCAM-Centre Pompidou at 19h30, performed by Divertimento Ensemble, conducted by Sandro Gorli, in a program presenting also pieces by Gérard Grisey and Raphaël Cendo.
Tickets available here.
Daniele Ghisi An Experiment With Time (reloaded),
commissioned by IRCAM-Centre Pompidou and the Divertimento Ensemble,

French Premiere
Composition, Sound Installation, Video and Animation Daniele Ghisi
Inspired by the eponymous book by John W. Dunne
Script Daniele Ghisi, Luigi Acerbi, Paolo Puggioni
Script Assistant Maryam Babaei
Video Assistant Luca Morino
Graphic Advisor Davide Bordogna
Visuals drawn by Luca Nava
Divertimento Ensemble
Conductor Sandro Gorli
IRCAM Sound engineer Sylvain Cadars
IRCAM Computer Music Design Manuel Poletti
Photo credits Miroslav Barták, From Old Books, Karl Jahnke
Copies of the Illustrated London News shoLondon News/Mary Evans Picture Library
Audio credits Tebblofang, empraetorius, HollowRiku, lucaslara, nebulousflynn, exterminat, Omar Alvarado, RutgerMuller, Runey, SunnySideSound
Additional thanks to Mattia Bergomi, Sylvain Cadars, Aaron Einbond, Carla Felotti, Maria Giulia Ganassini, Boris Labbé, Virgilio Maffeis and family, Yann Philippe, Andrea Rota, Christopher Trapani, Paul Slocum and Vincenzo Picariello
organized in partnership with
Divertimento Ensemble - IT